Description
Why Make Badges Reusable?
Badge King now has Reusable Name Badges and Window Badges that can easily be personalized, and save you money!
Badge King has been producing badges for over 30 years and have many products to serve our client's needs.
How Reusable Badges Work




Badge King's reuseable badge has three components and comes in two sizes 60mm X 20mm and 75mm X 25mm:
Badge Plate

Badge Lens Cover

Name Badge Holder (Fastener)
The 3 Parts of the Reusable Name Badge


1. The Badge Plate
Steel name badge plates in white, silver and gold
2. The Badge Lens Cover
Reusable Name Tag Lens Covers
Badge King's domed name tag lens covers add the final touch to your name badges and give them a polished look and feel. Lens covers are shatter proof and manufactured with materials that produce optically clear parts. These are tabbed to fit so they do not fall off. The domed lens cover design complements the badge; giving it a stylish 3 dimension domed look and feel. The name tag lens cover is the key to reusability; this component houses the plates and inserts, creating a name tag product that saves time, money and gives the user the flexibility to implement immediate badge change overs.
The name badge lens cover was originally conceptualized as a "snap on" domed lens cover for name tags. By molding a name tag lens cover in the domed form, we achieve a part that is re-usable or if damaged, replaceable. In addition to protecting the surface of the name tag, our dome will be easily replaced when damaged.
Name tag lens covers are available in all plate sizes.
3. Name Badge Fasteners
Your choice of clips, pins or magnets.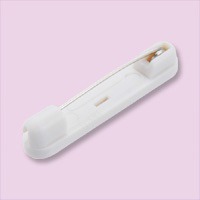 Custom Badges – Key Features
The parts of the reusable name badge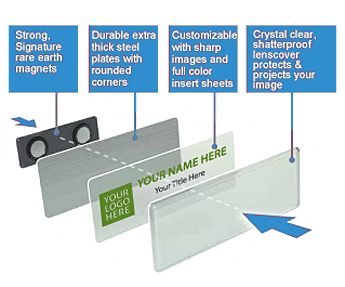 Window Badges
$12.00 each